POWERFUL FEATURES
Managing your audit process is simple.
No install required. Access Atom from anywhere, anytime.
Quickly audit records with both original and recommended coding.
Coder access included for full rebuttal response process.
Results from any audit can be viewed online or downloaded via our Reports dashboard.
Powerful insights at your fingertips.
Atom Audit reports include:
Individual record worksheets


Reimbursement Impacts

Detailed Coding Level Accuracy Rates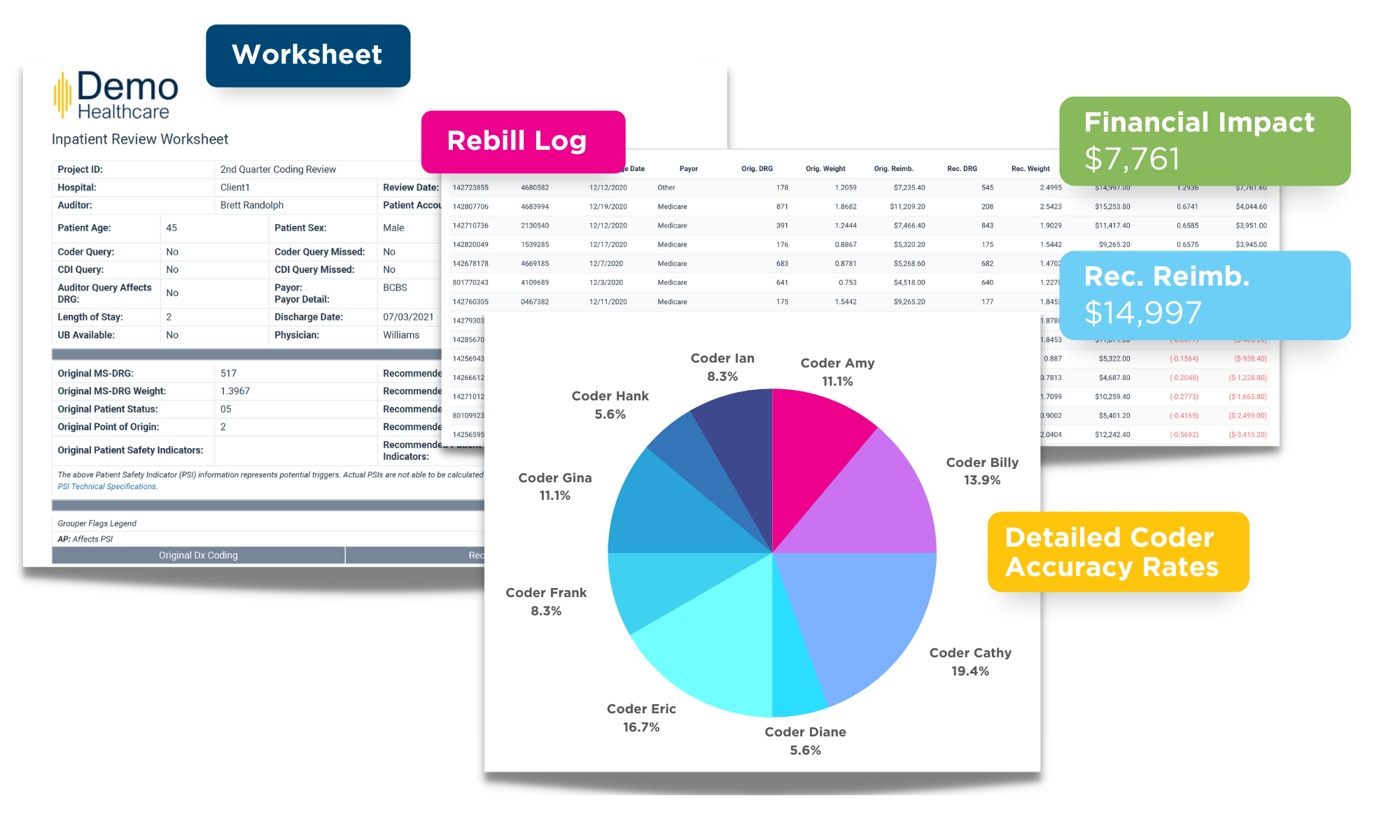 Four Solutions for One Annual Fee
Atom Audit supports Inpatient, Outpatient, Professional Fee, and Ambulatory Surgery all for one annual per auditor fee.
Each module includes features for full coding validation and reporting.
Solution
Inpatient
---
DRG

PSI and QMs

Reimbursement Impact

ICD-10 CM & POAs

ICD-10 PCS

Point of Origin

Patient Status
Solution
Outpatient
---
APC

Multiple Patient Types

Reimbursement Impact

ICD-10 CM

ICD-10 PCS (Optional)

CPT

EM
Solution
Professional Fee
---
1995 / 1997 and 2023 EM Leveling Tool

Physician Fee Schedules

ICD-10 CM

CPT

EM

Modifiers
Just launched
Solution
Ambulatory Surgery
---
CPT

Multiple Patient Types

Reimbursement Impact

ICD-10 CM

Modifiers
PRESS RELEASE
HIA, celebrating their 30th year as a leading provider of quality coding audits and coding support services, is proud to announce Atom Audit, its new proprietary medical coding audit and data analytics platform.
"Those in the HIM field know when you get that Friday afternoon call from administration saying you failed a quality measure, you often hear that it was a coding issue. If I had Atom Audit back then, I would have had all the relevant data at my fingertips to prepare an informed response."
"Our team is excited to continue building cloud-based software that streamlines Inpatient, Outpatient. Ambulatory Surgery Centers and Professional Fee auditing."
"Our success lies in providing tools to our staff that allow them to be as efficient and effective as possible. We are excited to bring this capability to our clients and will continue to provide the most innovative and forward-thinking audit platform on the market."
How much does Atom Audit cost?
One user costs less than $15/day for our Essentials Package, which gives you access to our Inpatient, Outpatient, Professional Fee and Ambulatory Surgery modules.
How does a coding audit platform improve collaboration amongst HIM departments?
A coding audit platform that includes a rebuttal workflow keeps audits collaborative by allowing your coders to engage in the conversation.
What is the onboarding process?
Getting started is easy and requires minimal support from your IT organization. Our team will guide you through the onboarding process and ensure a successful implementation.
How many auditors can use Atom Audit?
Unlimited. Atom can support an unlimited number of auditors.
One tool to manage your entire audit process.